More Than a Face on the Fridge
One family's journey to connect with their sponsored child
by Anne Summers
TThe small laminated card pictured the serious face of 10-year-old Payal. When Dan Grizzle and his family selected it from the display in the air-conditioned lobby of their church, they never expected that Dan would meet Payal in the steamy, crowded streets of India just a few months later. That face-to-face meeting allowed Dan to experience how the Grizzles' monthly sponsorship dollars were really touching a life—a life they glimpsed every day on their refrigerator.
Valley Church (EFCA) in West Des Moines, Iowa, sees child sponsorship as a natural next step in its humanitarian efforts. For more than 10 years, the church has partnered with ReachGlobal in India to share acts of compassion with those living in poverty.
In March 2012, after learning about the EFCA's child-sponsorship program, the church decided to take that step to deepen its international humanitarian work. Valley Church held a GlobalFingerprints weekend, which included an explanation of the program and an opportunity to sponsor a child from India.
It was during this kickoff event that the Grizzle family chose to sponsor Payal. Altogether, 75 children were sponsored during two such weekends at Valley Church. And the ongoing partnership did indeed begin to deepen. "Since we send teams each year to India, people have been able to actually meet the children they sponsor and pray for," explains Valley Church's associate pastor, John Berglund.
In January 2013, Dan Grizzle joined a church team that traveled to India, to engage in a variety of humanitarian activities (his second such trip). He honestly hadn't even thought about trying to meet Payal; he hadn't expected it would be possible. So he was surprised when his entire group met Jagruti, the young girl sponsored by Valley Church's senior pastor, Quintin Stieff.
"The highlight of her time with us was a song she sang for the group," Dan remembers. "Some of the words were, 'My mother may let me down, my father may let me down, my brothers and sisters may let me down but Jesus will never let me down.'
"There wasn't a dry eye in the room."
After this encounter, Dan wanted to meet Payal, so he contacted staff members in the local GlobalFingerprints operation. Just a few hours later, there she was.
After the shy pre-teen was introduced to the group, Dan remembers, "I told her that my family and I were praying for her and that I was excited to meet her in person.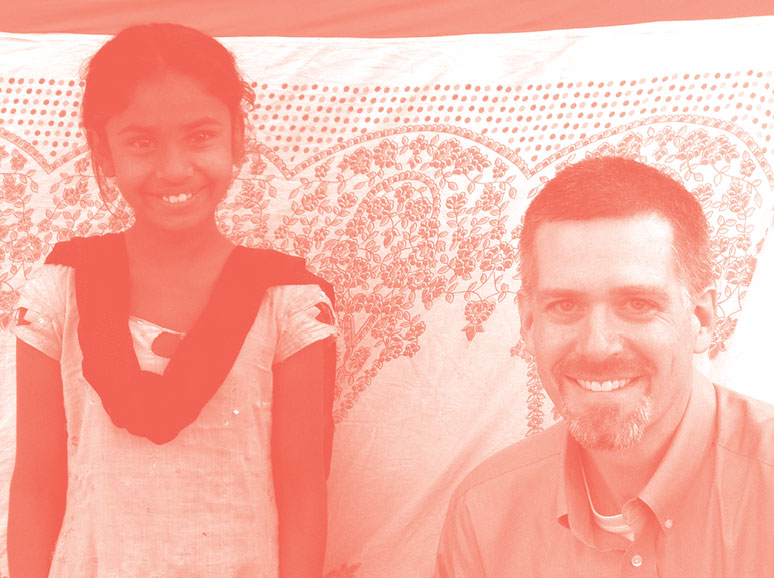 "It's something I'll remember for the rest of my life—not just putting a name with a face but knowing this is a real person."
Another couple traveling with Valley Church witnessed these interactions with Jagruti and Payal and decided, on the spot, to sponsor two boys they had met.
Throughout his remaining days in India, Dan kept an eye on Payal as she enjoyed some children's activities run by others in his group—witnessing exactly how his family's contributions were benefiting her and her family.
Payal's family is regarded as extremely poor within a poverty-ridden area of her city. GlobalFingerprints ensures that care is given to her physical, emotional and spiritual needs and that she has the resources to attend school.
This holistic approach is significant to Dan. "Just knowing that she can get an education, that she's taken care of—who knows where it's going to lead?" he asks. "And there are people in her neighborhood who are going to share the gospel with her."
When he returned home, Dan shared his experiences with his church community, and the impact of his trip continued to spread. "I had one person in particular approach me and say, 'I've always wondered about these organizations when you send in the money. But you've met the person, and you know it's getting to the right place.'"
That fellow church member then went on to sponsor a child too.
While the partnership between Valley Church and India has existed for many years, GlobalFingerprints is bringing the relationship to a new level, involving many more members of the church.
Dan's own family continues to deepen its relationship with Payal and her community. "My daughter, Rachael, has had a heart for the nations since she was 10 or 11," he says. "Knowing she's connected to somebody is making that even more real."
Once an eye-catching face on their refrigerator, Payal is now even more firmly woven into the Grizzle family's hearts.